INVITATION - YATOO International Artist in Residence Program 2013
페이지 정보

작성자
관리자
댓글
댓글 0건
조회
Hit 4,504회
작성일

Date 14-11-10 11:09
본문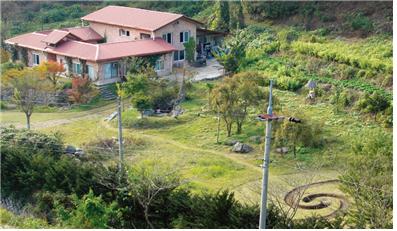 Please download attached Word file.
---------------------------------------------------------------------------
INVITATION
YATOO, International Artist in Residence Program 2013
Yatoo, The Korean Nature Artist`s Association
San 26-3 Sinwoongri, Wooseongmyeon, Gongju, Chungnam 314-861, South Korea
Tel +82.41.853 8828, +82.41.853 8838
Fax +82.41.856.4336
yatoo07@gmail.com ,  yatoo@hanmail.net
www.yatoo.or.kr , www.yatooi.com
Since 1998 the Korean Nature Art group Yatoo owns a house in Wongol, Dongwon-Ri near Gongju, Chungnam, 1,5 hours from Seoul. It is a wonderful place for nature artists. The beautiful and quiet Korean landscape, and the simple but functional living and copious working spaces provide ideal working conditions for artists.
Yatoo provides the facility as a residence for artists who are interested in topics related to Nature, as a recreational centre for artists and a space for experiencing the nature.
It is located at the very end of a small village with 40 inhabitants, mostly farmers. It is very quiet and allows a concentrated working.
Facility:
The facility consists of buildings surrounding an inner yard. Two bathrooms with hot shower, a fully equipped kitchen, a washing machine, separated bedrooms, a large scaled hall with an extended floor. An open, roofed working space and a large garden with pond and a natural spring.
Telephone and internet access.
The supply of food can be managed by the artist in a nearby village (Yugu- 4 km) OR by arrangement with Yatoo members.
Transportation:
A bus is going frequently to Gongju (30 min.). A bicycle is available.
Gongju is accessible by bus from Seoul (90 min.)
Tools and material:
All media are welcome: video, photo, sculpture, installation, painting, drawing etc. but the work shall relate to nature and express aspects of contemporary art.    
The artists are responsible for providing their tools and materials; some basic tools are available.
Award and deadline:
The award is for 1 month up to 3 months.
The closing date for applications is 20th of March 2013 (or ongoing if needed)
Costs and fee:
For a residency we will provide US $ 1.000 for 1 month, US $ 1.200 for 2 months US $ 1.400 for 3 months, (this money shall cover for instance the expenses of artist's food, we do not support any food). The residency is free of any additional costs. The artists have to cover the expenses for flight and transport to Gongju and back by themselves.
Period:
The duration of artists stay is limited up to 3 month. The period is from 15th of April to end of September. It depends on applicants request and availability.
Number of artists:
5~7 artists (3~4 artists can use the facility at once.)
Program
There will be some activities for artists during the residence.
O A presentation of artist's work and concept for artists, villagers and students
O Workshops are part of the Educational Program for students
  and children. (1-2 times a week. A fee for the workshop is available)
O Exhibition.
  The artist will present the outcome of the residency in an exhibition.
Artist could add some more works from home if needed.
We will provide an exhibition space at the Nature Art Centre at Yeonmisan
Nature Art Park, or at the residence building's garden in Wongol.
  An exhibition leaflet will be printed
How to apply:
Applications are to be sent to the office of Korean Nature Artists` Association – YATOO : (by post AND E-mail)
Address : San 26-3 Sinwoongri, Wooseongmyeon, Gongju, Chungnam, S.Korea
E-Mail : yatoo07@gmail.com , yatoo@hanmail.net
Decision
Decisions are made by the YATOO Committee. Applicants will be advised of results by email.
Program Host
Korean Nature Artists` Association - YATOO
www.yatoo.or.kr , www.yatooi.com
Supported by
Arts Council Korea, Chungnam Provincial Office, Gongju City
For more information contact
yatoo07@gmail.com  or  yatoo@hanmail.net (both is best)